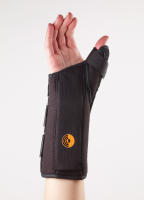 Our Ultra-Fit Wrist Splint with Abducted Thumb provides consistant clinical results. Designed with dual adjustable aluminum stays that support the palmer surface of the wrist and extensor surface of the thumb. Available in two materials – durable lightweight tricot or breathable cool spacer fabric. May be used for tendonitis, sprains and strains, and post cast removal.

Features easy one-hand application and provides comfortable thumb and wrist immobilization while preserving mobility of the other fingers Indicated for deQuervain's Syndrome, tendonitis, thumb strains or sprains and post-cast removal Manufactured from durable, lightweight material with removable malleable aluminum palmer and thumb stays, flexible dorsal stay and contact closure.

For Sizing: Measure in inches your Wrist Circumference.