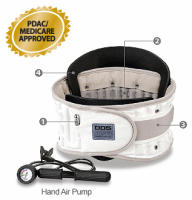 DDS 500 Single - acts to provide traction between the lower part of the rib cage and the upper part of the hip creating weight-bearing forces away from the lower back and reduces the pressure in the lumbar spine (spinal decompression).

The unique quality that DDS 500 offers is the use of vertically expandable columns to provide a secure mechanical support and as well as spinal decompression for the lumbar vertebrae. It effectively reduces lower back and radiating pain. DDS 500 uses anterior and posterior rigid panels that are typically used for spinal stabilization and rehabilitation. Comes with back panel.

Choose Size. Measurement taken at belly button, around waist in inches.