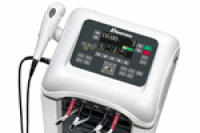 Dynatron Solaris® 705 Plus (D715) 3-Channel Stim Unit Dynatronics has combined the popular features of the Solaris Series with revolutionary Tri-Wave Light to create the innovative Solaris Plus Series. The Solaris Plus 705 offers 7 Stim waveforms, and the option of adding Tri-Wave Light Therapy.
 
Exclusive Target and Target Sweep are still standard, allowing interferential treatment to be moved directly over the center of interference. Solaris Plus is covered by a 2-Year Warranty and backed by the best customer service in the industry. 

Tri-Light Probes, Tri-Wave Pads, and Solaris Cart sold separately.