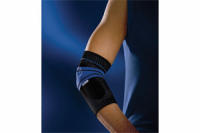 Comfortable, lightweight support ideal for epicondylitis, elbow strains or sprains, overuse syndromes, pre and post-operative conditions and chronic edema. Knitted elbow support incorporating two anatomically contoured silicone inserts surrounding the medial and lateral epicondyles and lying over the flexor and extensor muscles.

Silicone inserts leave the epicondyles pressure free and provide intermittent compression to the soft tissue of the joint, leading to increased circulation which reduces pain and edema. Machine washable.

Measure at widest part of forearm.